Auto Recycler Security PA NJ DE- Northeast Remote Surveillance and Alarm, LLC designs and installs security solutions for National, Regional and Local auto recyclers including auto salvage yards in Pennsylvania, New Jersey, and Delaware. Today's analytic security solutions, HD security cameras, and IP security camera technology allow fewer salvage yard cameras providing move coverage and higher clarity to 30 Megapixels.
Salvage yards benefit from analytic security solutions. Motion detection based on analytic patterns eliminates the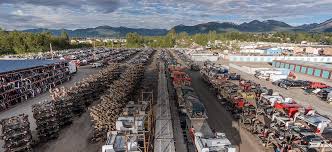 false motion normally associated with pixel-based motion detection. Today's deep learning analytic systems provide effective as motion sensors, people, and object detection.  Analytics are used for abnormal activity alerting systems, people identification, vehicle identification, missing object detection, objects left behind and more.  Now rodents running across your property, clouds casting shadows on your property or leaves blowing are no longer wasting your hard drive space. Analytics based recording systems also allow you to highlight a person or vehicle and almost instantly retrieve every occurrence of that object or individual on the system.
Auto Recycler Security PA NJ DE includes:
Salvage Yard Cameras
IP security cameras to 30 Megapixels
Analog HD security cameras
Legacy CCTV upgrades
Experience with the countries largest auto recycler/dismantler
Salvage Yard Perimeter Detection
After hours detection of people on property using analytic systems
Salvage Yard Intrusion Alarms
Video Monitoring
Alarm Monitoring
Public Address Systems
Two Way Intercoms
Door Buzzers
License Plate Capture
Access Control
Call Us Today for Auto Recycler Security PA NJ DE
1-888-344-3846
or